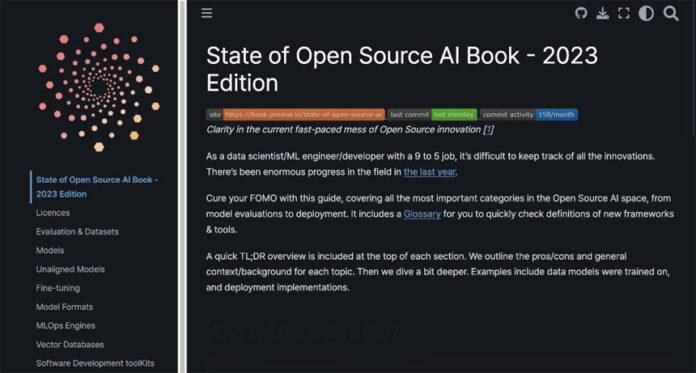 IBL News | New York
"Open-Source AI represents the future of privacy and ownership of data." This is the main conclusion of the 2023 State of Open Source AI Book.
Another key finding is that "open-source AI is taking over the world."
In the last year, the open-source community has demonstrated its motivation by delivering quality products and creating different innovations is different fields.
"This is just the beginning. Many improvements in multiple directions must be made in order to compare the results with centralized solutions," says the report.
Experts say that, as it happened with Linux, the world-class operating system, open source will dominate the future of LLMs and image models. Even Google acknowledged that they have no moat in this new world of open source AI.
The consensus is that open source models are incredibly good at the most valuable tasks, as they can be fine-tuned to cover likely up to 99% of use cases when a product has collected enough labeled data.
Open-source AI is taking over the world.

Here is a free, open-source book that will help you keep pace with everything that's happening:

State of Open Source AI Book – 2023 Edition

This is a living book. Anyone can contribute to it.

Here is what you can find inside:

1/2 pic.twitter.com/dAHwvSXdA2

— Santiago (@svpino) October 24, 2023
The Future of Enterprise AI: OpenSource LLMs + LLMOps 🔥

Organizations are increasingly recognizing the potential of LLMs in reshaping their operations. The ability to access, interpret, and act upon vast amounts of information in real-time can be a game-changer for businesses.… pic.twitter.com/E20bPtg1OU

— Shubham Saboo (@Saboo_Shubham_) October 22, 2023
Super simple startup idea: take open source models, speed them up relentlessly, make an api, have the cheapest possible price, great uptime.

In the long-run, you'll build economies of scale w GPUs + have a process power of optimization.

— Suhail (@Suhail) October 20, 2023
The pace of open-source LLM innovation and research is breath-taking

I suspect that open-source will soon become unbeatable for anyone except maybe OpenAI

Here's why

– Open-source community is way bigger than any specific company
– Safety lobotomy and fear of bad press will…

— Bindu Reddy (@bindureddy) October 14, 2023
Long Llama, a 256k context window open source LLM available on Github:

Llama is the Linux of AI language models. You can run this locally, offline on your own machine with the right hardware.https://t.co/rjT5IgyaiK

— AI Breakfast (@AiBreakfast) October 13, 2023
ChatGPT vision but OpenSource 🤯

Meet LLaVa: Multimodal LLM with vision assistance offering impressive chat capabilities to the likes of multimodal ChatGPT.

With just 13B parameters, it sets a new record in multimodal LLM space, posing direct competition to ChatGPT. pic.twitter.com/wsl7GEQ8Rp

— Shubham Saboo (@Saboo_Shubham_) October 9, 2023