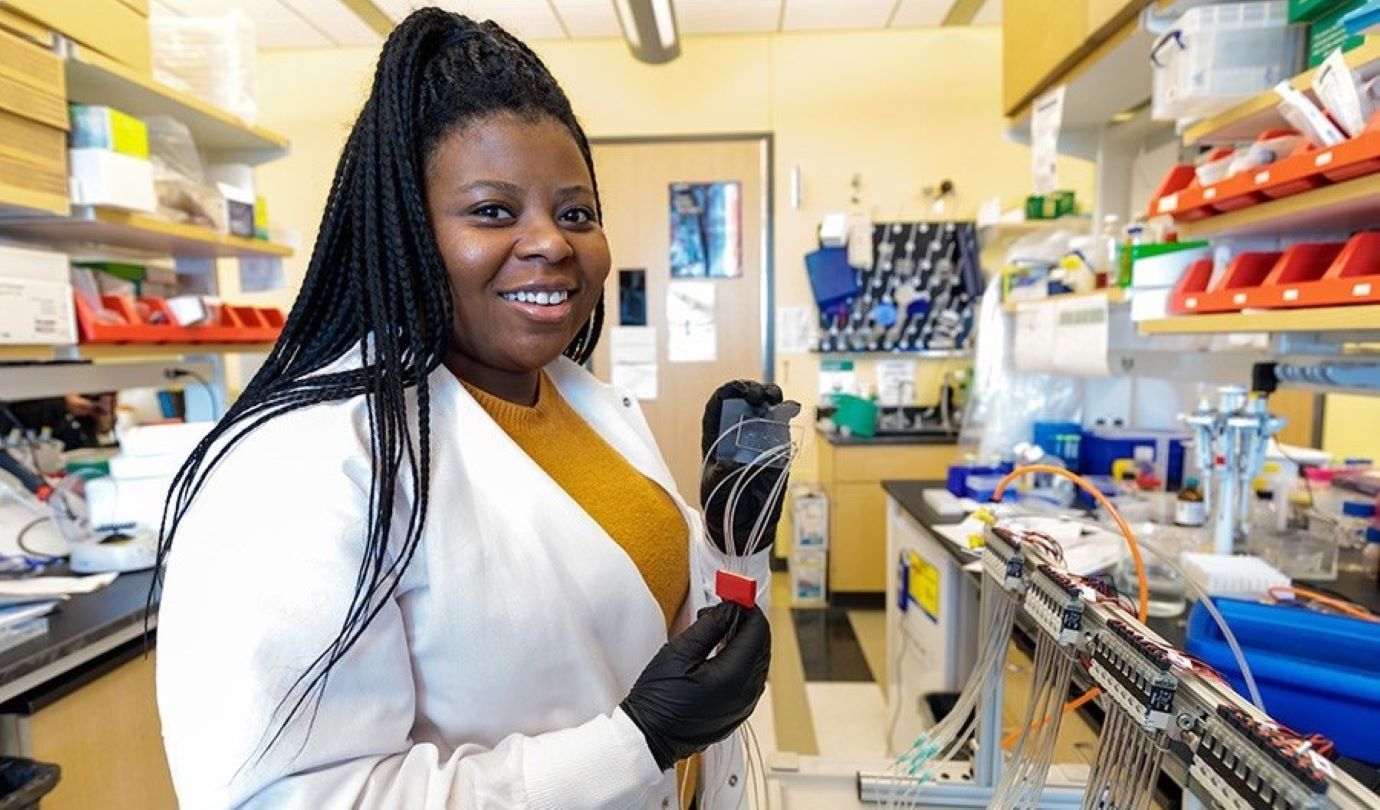 "I'm a chemical engineer interested in biomedical engineering and materials science; I chose UChicago's Pritzker School of Molecular Engineering so that I could pursue my diverse interests," she said.
One device to test for several respiratory diseases
Now a PME graduate student, she conducts research in the lab of Prof. Savas Tay, developing a new kind of microfluidic device to test for respiratory diseases. Microfluidic devices can analyze fluids, using tiny channels to process samples and test for diseases like COVID-19 and influenza. But Okrah is working to make these devices even better.
"Most microfluidic devices can only do one part of the process, but we hope to create a device that can do everything: sample collection, extraction, and processing," she said. Such a device could also test for multiple diseases at once, which could ultimately lower the costs of diagnostic tests.
Creating devices like this requires knowledge of biology, chemistry, and materials science—all the fields she's interested in. But when Okrah runs into an issue she can't figure out herself, she knows she can turn to her lab mates and professors.
"I've had phenomenal support and resources from the beginning," she said. "That's important, especially when you're a Black student, and you experience things that make you question whether you should be here. But you just need to remember that a group of people looked at your application and thought that you would make an excellent researcher. You're meant to be here."
Taking time to mentor next generation
Okrah co-founded the UChicago chapter of the National Society of Black Engineers and she continues to serve on a national level through various committees. She participated in the Science Communications Program, using her newly found skills this fall at the South Side Science Festival, which brought science demos and experiments to kids and families in the area. Last summer, she even took time to mentor a high school student in her lab.
"This all helped me explain my research, to help others learn what I have learned," she said.
And, though she does not yet know which career path she will pursue, she says her parents aren't upset she didn't continue the electrical engineering family tradition.
"My dad is just happy that I'm getting a Ph.D.," she said with a laugh.
This story was adapted from the Pritzker School of Molecular Engineering website.