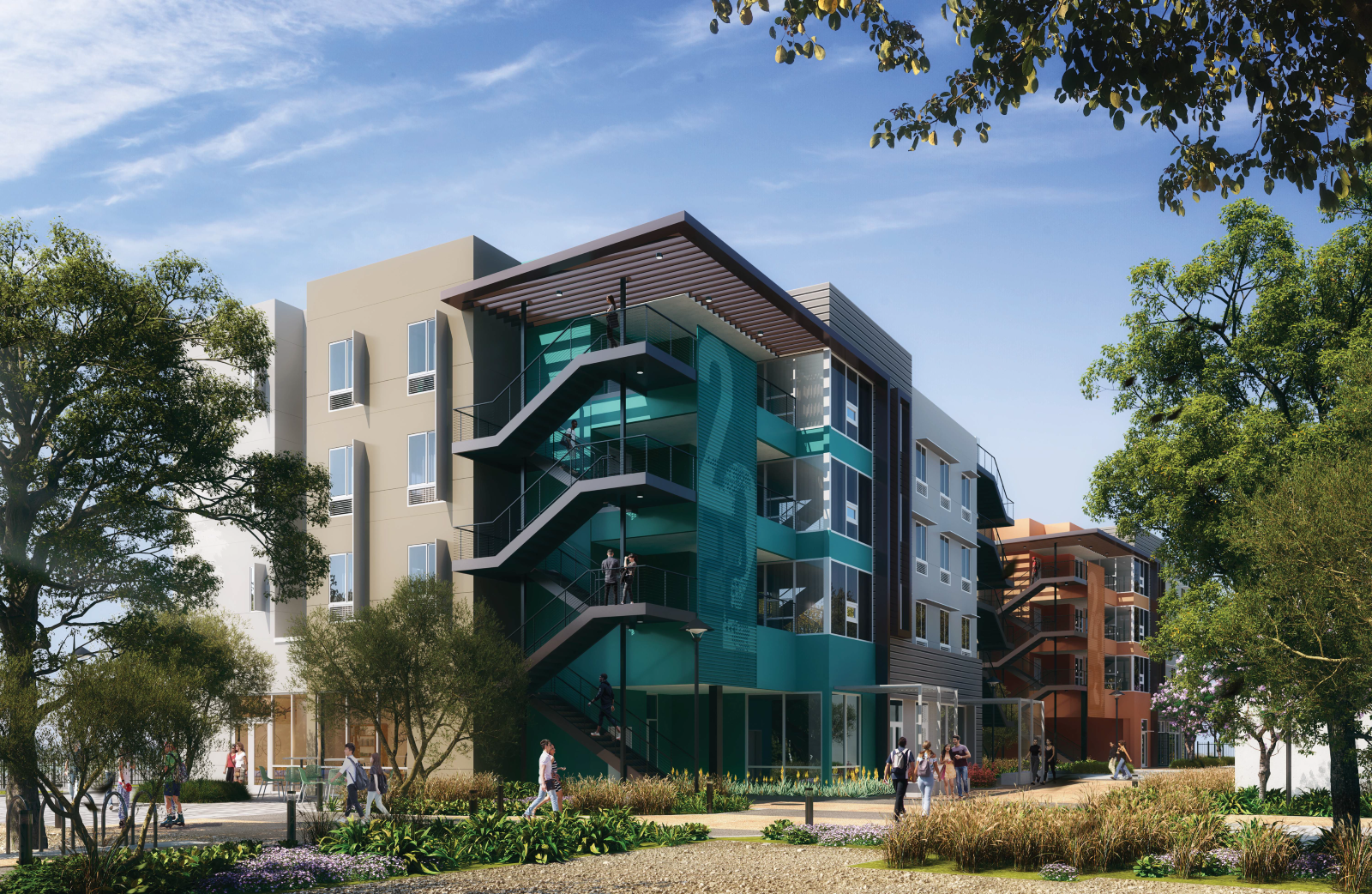 Two new buildings will add 60,290 square feet of housing and services to the campus
NORTHRIDGE, Calif. – Continuing in its role servicing major universities, C.W. Driver Companies (a leading builder serving California since 1919) has begun construction on a 198-bed student housing complex at California State University, Northridge (CSUN) in the San Fernando Valley. Once completed for opening in Fall 2025, the $55.7M project will add two four-story buildings to the 365-acre campus, which will include housing, engagement spaces, student lounges, and space for large-scale programming.
Located at 17950 Lassen Street, Buildings #22 and #23 (as they will be known) will encompass 60,290 square feet, of which 30,000 will be housing space. Residential floors of each building will include dual occupancy student rooms, with four students sharing each bathroom, and one suite-style living room per floor. Each building will have its own central elevator, building services, and secure access. Non-residential floors will provide CSUN Matadors with modern amenities and services. Building #22 will include a student community space, study rooms, and an expansive multi-purpose room. Student housing administrative offices and a mail hub will be in Building #23.
CSUN's 38,310 students and 4,000 faculty and staff members will see the exterior transformed through courtyard landscaping and hardscaping that will connect to the existing student housing offices and food service complex. Improvements will include new walkways, shade structures, and outdoor amenities.
"C.W. Driver is ideally suited to help CSUN with this student housing addition," said Brent Hughes, COO at C.W. Driver Companies. "In our many years of construction, we've worked on several schools and universities, including the Freshman Student Housing, Student Recreation Center, Physical Education Building, and Valley Performing Arts projects on the CSUN campus, providing us extensive campus knowledge and experience necessary for the construction."
C.W. Driver Companies collaborated with architects A.C. Martin Partners on the project. Other notable higher education projects by C.W. Driver Companies include the CSU San Bernardino – Coyote Village and Coyote Commons with SCB Architects, MiraCosta College Chemistry & Biotechnology Building; Pomona-Pitzer's Rains Athletic Center; Orange Coast College's Language Arts and Social Science Building, Kinesiology and Athletics Complex and Student Union Complex; Mesa College's Fine Arts Building; Chapman University's Keck Center for Science and Engineering; Cal Poly Pomona's Student Services Building; and Vanguard University's Waugh Student Center.
About C.W. Driver Companies
C.W. Driver Companies is a premier builder serving California since 1919. In 2019, the historic company proudly celebrated its 100-year anniversary. As a leader in general contracting and construction management services, C.W. Driver Companies are on the cutting edge across a broad spectrum of industries, including education, commercial/office, technology, healthcare/biomedical, mixed-use, assisted living, entertainment, retail, industrial and civic. Ranked in Engineering News Record's Top 150 General Contractors and Top 100 Construction Managers, C.W. Driver Companies has the ability to build a variety of projects, from large tenant improvements to small renovations and specialized projects through its affiliates Driver SPG and Good & Roberts. C.W. Driver Companies has offices located in Los Angeles, Rancho Cucamonga, Anaheim, San Diego and Carlsbad. For more information, please visit www.cwdriver.com. Follow C.W. Driver Companies on Facebook, Twitter and LinkedIn.