Thanks to Instagram, TikTok, and America's insatiable new appetite for RV'ing during The Covid Years, the modern van life movement found its way into mainstream culture. While cute, highly customized, hippie-chic vans garnered most of that attention, van life is hardly "new." Some folks have been living it out of necessity and a quest for minimalism (see Nomadland) for decades, while others have enjoyed the more luxurious showroom offerings from the likes of Volkswagen and Mercedes. These last two, along with Europe's most recognizable van makers, recently released the next class of state-of-the-art van living concepts. It's clear they're working to ditch traditional gas-powered models for cleaner, electric-powered alternatives with a lot more tech features baked in.
Volkswagen
Volkswagen came out swinging at this year's Caravan Salon (a mega trade show for mobile living brands and enthusiasts) in Dusseldorf. The German automaker debuted a concept of its next-generation T7 California Camper. It's almost identical to VW's most well-known camper offering, with a clear lineage to the OG T2 camper that might well be the world's first "van life" van. One of the biggest upgrades is that this seventh-generation edition will be offered with a plug-in hybrid option. Given VW's penchant as a tech-forward company, it wouldn't surprise us to see the following generation go all-electric. Other upgrades include dual sliding doors that add a whole new level of versatility. Swiveling front captain chairs and an indoor/outdoor, camp-friendly kitchen make the entire cab infinitely more usable, too.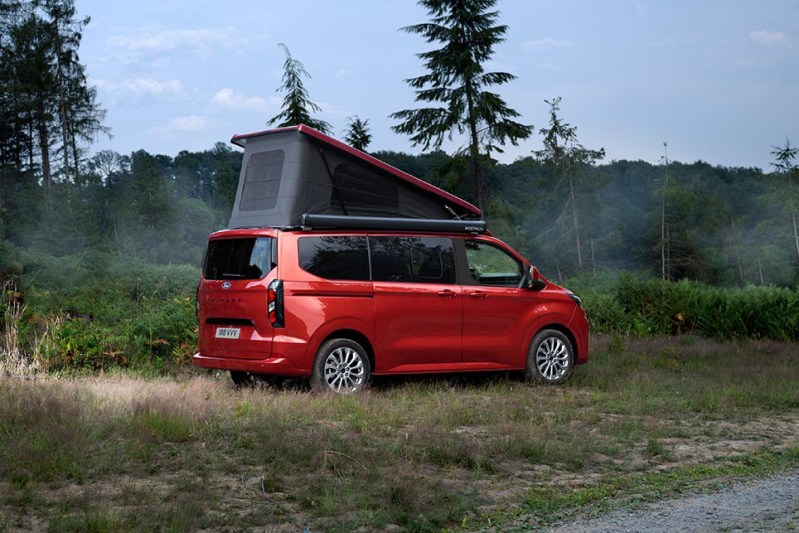 Ford
Ford also unveiled a concept with a plug-in hybrid option based on its ever-popular van life platform, the Transit and Tourneo-based campervans. The Ford Transit Custom Nugget is a serious van-life-ready chariot with a tilt-roof that sleeps four. With help from iconic campervan builders Westfalia, the automaker also incorporated tech-forward conveniences, like a solar roof panel, driver-assist safety options, a tailgate-mounted shower, and a massive amount of storage throughout.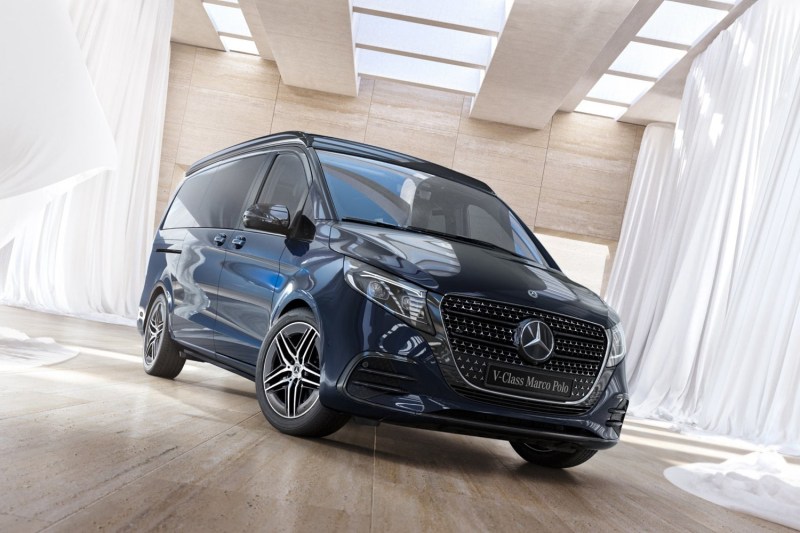 Mercedes-Benz
True to its roots, Mercedes-Benz made a splash at Caravan Salon with the new V-Class Marco Polo concept. The Marco Polo range is Mercedes' own campervan line-up in Europe, and one that's frequently used by enthusiasts as a platform for building and customizing their own rigs. For those looking for a more luxurious, off-the-rack option, however, this new M-B van will feature a next-gen touchscreen interface to control almost every tech feature, including the company's AIRMATIC suspension, capable of automatically leveling the van when camping on uneven ground.
It's difficult to know which, if any, of these European van life concepts will ever see mainstream production. Of those that do, most will never find their way onto U.S. roads. So, if you want one, you might need to figure out a way to import it. The other, far more fun option would be to just throw all your worldly possessions into the ocean, book a one-way ticket across the pond to start a new life as a European van lifer, and never look back. Whichever you decide, we salute you.
Editors' Recommendations