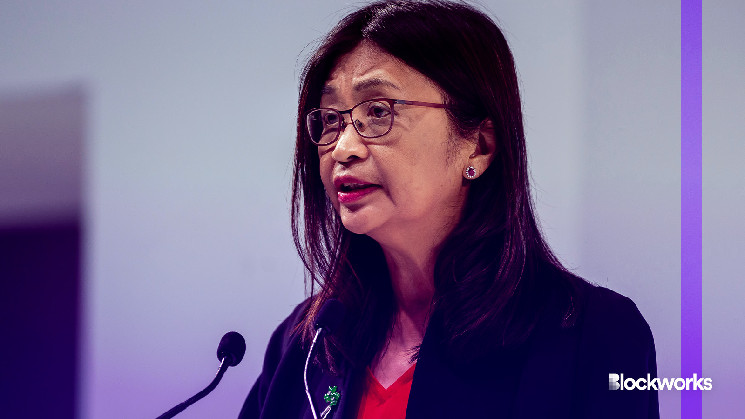 As Hong Kong continues its regulation of the crypto space, tokenization has become a focus, according to the chief of the city's securities regulator.
Julia Leung, CEO of Hong Kong's Securities and Futures Commission (SFC), said during an interview shown at DC Fintech Week Wednesday that more traditional financial institutions are experimenting with blockchain-based tokens that represent ownership of financial assets.
The SFC responded, last week publishing requirements needed to launch such tokenized products. Tokenized funds, for example, are likely to hit the market as the regulator continues discussions with industry players.
"Without the guidance, traditional finance will hesitate to get into the space," Leung noted. "We will discuss what the risks are and make sure those risks are mitigated before launching."
An investment arm of the Bank of China issued notes tokenized on the Ethereum blockchain in June. Taiji Capital launched a tokenized real estate fund through its subsidiary, Pioneer Asset Management, in September.
Read more: TradFi, DeFi convergence continues through tokenizing real-world assets
While traditional finance players were once concerned that blockchain and other distributed ledger technologies (DLT) would upend the industry, Leung said such innovations can bring "positive disruption" to financial markets if used properly.
"Now I think the view is more realistic that this is not going to be revolutionary, but evolutionary, as the ecosystem for Web3 needs time to build up," she added. "But it is definitely coming."
A different approach from the US
Leung said in the interview with Chris Brummer, director of Institute of International Economic Law, that the SFC does not want to stand in the way of responsible innovation.
She noted the agency's investor protection-focused approach is "the global consensus," particularly after the collapse of crypto exchange FTX in November 2022.
Read more: Hong Kong strengthens crypto oversight and imposes tighter controls
The SFC granted a license to SEBA Bank's Hong Kong affiliate to conduct various crypto-related services, such as distributing OTC derivatives and structured products with underlying digital assets.
While Hong Kong offers crypto guidance and oversight, Brummer noted that the US has dragged its feet on crypto regulation. In the absence of a framework, the Securities and Exchange Commission has launched enforcement actions against industry players for alleged securities violations, including exchange giants Coinbase and Binance.
The SEC's remit is wider than Hong Kong's, Leung said, adding that enforcement can be an effective way to crack down on the space.
"We think having a new legislation to define crypto assets will provide a very level playing field and we can introduce new guidance to cover risks that are bespoke to DLT, such as private key management and [anti-money laundering]," she said. "But, I emphasize, each regulator has to find its own path to give the best protection to our investors."