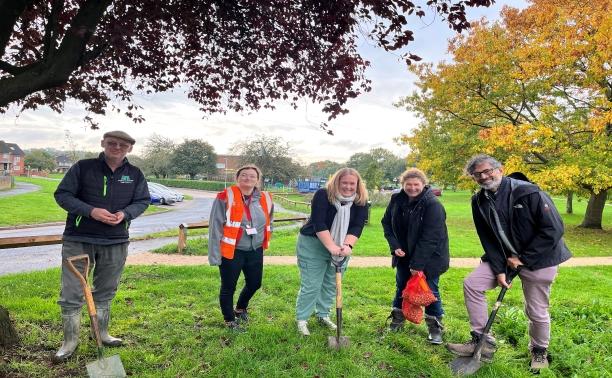 The Meriden Park improvement project enhancing one of Watford's green spaces is nearing completion, with councillors gathering for a bulb planting event to mark the final phase of this transformation.
Over the past year, Meriden Park has undergone several improvements, focusing on enhancing biodiversity and creating a more welcoming environment for visitors. The previous works have included the introduction of new planting schemes, wildlife-friendly landscaping, better footpaths, and an improved car park, making the park not only more environmentally friendly but also more accessible to the local community.
The bulb planting event saw attendees roll up their sleeves to contribute to the park's transformation. Hundreds of colourful bulbs are being planted in various areas of the park to create a vibrant display of spring flowers for years to come.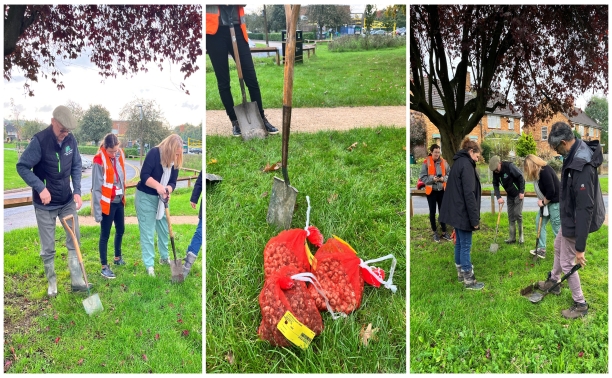 In addition to the bulb planting, the culmination of the improvements to the park will include the installation of additional benches, providing more seating options for park visitors to relax, enjoy nature, and socialise. These benches will be strategically placed to encourage the community to spend more time outdoors.
Elected Mayor of Watford, Peter Taylor, said: "We are thrilled to have worked alongside residents and community groups to revitalise this beautiful space. Improving Meriden Park's biodiversity and making it more accessible was a promise we made, and now delivered. This shows our dedication to both our environment and the people who enjoy the park."
17 of Watford's parks and greenspaces have been awarded Green Flag status, an award given to the best parks in the country. You can find out more about Watford's open spaces at www.watford.gov.uk/parks