Pushwoosh is a customer engagement platform for apps and mobile-first businesses seeking to optimize their user interactions through omnichannel communication. Originally established as a pioneer in push notifications, Pushwoosh has evolved to excel in user engagement across multiple channels. The platform provides tailor-made solutions for various industries, including media, lifestyle, e-commerce, gaming, and fintech & banking.
Lifecycle user engagement with omnichannel strategies
Pushwoosh offers a set of essential messaging channels: push notifications, in-app messages, emails, SMS, and WhatsApp. With Pushwoosh, you can integrate these channels into a single omnichannel system while consolidating all trigger event data within Pushwoosh's customer data platform.
This way, for example, an e-commerce app may detect users who've recently installed the app and initiate a series of in-app messages to guide them through the app's features. Once a user has created their account, the app can start sending promotional offers via push notifications and order information via email. If there is a need to reach the user via WhatsApp, that can be done with Pushwoosh too.
Pushwoosh Customer Journey Builder
Just like the seamless flow described above, you can create any user scenario in Pushwoosh Customer Journey Builder, a campaign planning and automation tool with a visual canvas:
Beyond messaging channels and trigger events, Pushwoosh Customer Journey Builder integrates all key elements to shape user journeys, for example, timing criteria. The Time Delay feature allows you to specify the exact moment of message delivery. For example, you can:
Set

a specific waiting period

that users will experience before progressing to the next phase of your campaign;

Schedule a message for

a precise moment in the future

;

Synchronize delivery

with details in an individual user's profile, for example, upcoming appointments.
With Pushwoosh Customer Journey Builder, marketers can automate recurring scheduled campaigns. Once the campaign is set up, it can run independently, eliminating the need for continuous manual intervention. This not only streamlines marketing efforts but also ensures that the messaging remains consistent and reliable.
Adapt your campaigns to real-time user behavior
With Pushwoosh Customer Journey Builder, you can anticipate all potential outcomes in your key communication scenarios and strategize multiple messaging variations:
Continue engaging with individual users after

they've triggered significant events

, such as completing registration, initiating a free trial, or making an in-app purchase.

Keep an eye on whether

a user has engaged with or overlooked your push notification or email.

Craft two distinct pathways for further communication: for example, users who have opened your push could receive a more thorough in-app message, while those who haven't interacted with the notification could receive an email with the same offer.
With behavior-based messaging by Pushwoosh, you can increase the relevance of your communications and drive user engagement.
Optimizing message delivery across channels
One day, a customer may be actively receiving your push notifications, but the next day, they might decide to unsubscribe. This same unpredictability applies to your email subscribers. To prevent sending messages in vain, Pushwoosh Customer Journey Builder features a Reachability check.
Using this tool, you can determine the technical feasibility of reaching your intended users through your chosen channel, whether it's push notifications or email. If they are unreachable through one channel, you can harness an alternate channel to deliver your message.
With Pushwoosh, it's not only messaging flows that adapt to user behavior but also user segmentation, which you can conveniently build right in the interface. Let's dive into the details.
Build-and-launch segmentation based on user behavior
In Pushwoosh Customer Journey Builder, you can segment your users based on their past actions and tailor your communications appropriately. Both segmentation and messaging can be configured within a single interface and adjusted in real time.
As a food delivery app, you can initiate communication with a broad segment of users who have placed at least one order through your app. Subsequently, you can refine your target audience based on the specific objectives of your campaign.
For instance, suppose you want to distinguish between loyal customers who are part of your loyalty program and those who are not. You can achieve this by segmenting your initial group and tailoring offers to each group: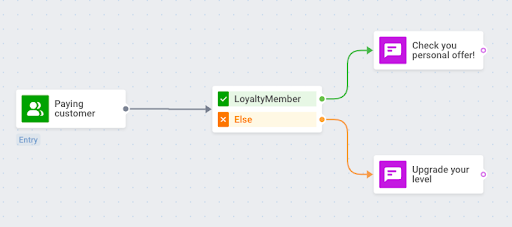 Pushwoosh customers value the tool's segmentation capabilities especially because they can create highly specific custom segments to target.
Segments of any complexity based on historical data
With Pushwoosh's advanced segmentation capabilities, you can experiment with different segmentation criteria:
User attributes (e.g., user preferences, demographic data, device data);

User behavior (events that were triggered/not triggered in the past);

Attributes + behavior.
Consider a scenario where a marketer aims to boost the number of paid subscriptions for the app. Here's an example of a sophisticated segment with a strong potential to convert into paid subscribers: iOS users who have achieved a milestone or visited a specific page at least three times within the past 14 days and have not yet upgraded to a paid subscription:
All in all, with Pushwoosh, you can create any compound segment with a custom combination of filters (connected by the logic operators "or/and"). By doing so, you avoid the need to craft numerous segments for various locations and languages, optimizing the ROI of your marketing campaigns.
Analytics and experimentation
Pushwoosh empowers marketers to analyze the performance of their messaging as well as to conduct experiments within their campaigns using A/B/n testing.
Post-messaging analytics
In the same way that segmented messaging delivers better results, analyzing post-messaging data by segment reveals more profound insights, a capability provided by Pushwoosh.
Consider a travel app that experienced unexpectedly low CTRs in its recent push notification campaign. The app's team might dive deeper into analytics to determine whether the lack of enthusiasm about the offer was widespread among all targeted customers or if it was specific to particular groups, such as residents of regions where vacations are still a few months away, users who haven't been active in the app recently, or any other specific segment.
A/B/n testing
With Pushwoosh Customer Journey Builder, you can evaluate the effectiveness of push notifications, as well as various channels and message sequences. You can simultaneously test the following elements to discover the most successful configuration for your messaging strategy:
Copy + time delay;

Copy + channel;

Segment + copy + channel;

Segment + triggered event, etc.
Based on engagement and conversion rates derived from A/B/n tests, you can make informed decisions and enhance your messaging strategies to boost your overall performance. With Pushwoosh Customer Journey Builder, the engagement metrics generated by these tests are readily displayed on the canvas, simplifying the process of analyzing user interactions with each variant:

In addition, you can access extensive statistics, such as the completion of a campaign goal and the statistical significance of the test results. Understanding the significance rate bolsters your confidence in the accuracy and reliability of your experimentation.
Pushwoosh: advanced capabilities, user-friendly experience
Pushwoosh offers robust yet user-friendly tools that are quick to learn and have minimal impact on your team's workload. The seamless integration and intuitive user interface make navigating Pushwoosh's tools a breeze. Marketers can fully utilize the platform's capabilities without the need for technical expertise.
Ready to learn more about Pushwoosh's powerful yet tech-easy tools as well as effective communication strategies with the use of push notifications, in-app messages, emails, SMS, WhatsApp, and omnichannel messaging?
---
Interesting Related Article: "Driving Customer Engagement"