As the autumn leaves fall and the winter chill arrives, Watford Borough Council is embarking on another ambitious tree planting initiative that will enhance the town's green landscape…
The project, set to begin in the coming weeks and finish by March 2024, encompasses the planting of an impressive 80 new trees along Watford's streets, after locations were suggested by residents. These will not just a source of beauty, but a testament to Watford's commitment to a sustainable future.
Research published by Forest Research and Defra last year, showed that trees planted outside woodlands are worth over £3.8 billion. The valuation is based on the important role they play in sequestering and storing carbon, regulating temperatures, strengthening flood resilience and reducing noise and air pollution.
In addition to the street trees, Watford's parks will soon witness a burst of green with five new trees in Radlett Road Playing Fields, four trees in Cassiobury Park, four trees in Oxhey Park, four trees in Oxhey Green, six trees at Leavesden Green Recreation Ground, and three trees at Woodside Playing Fields. Additionally, hundreds of new tree saplings will be planted in Lea Farm Recreation Ground and Woodside Playing Fields.
The council's commitment to a greener future does not stop here. The council are exploring the possibility of planting even more trees, subject to a grant from the Forestry Commission's Local Authority Treescape Fund. The newly planted trees throughout the town, along with the potential for additional plantings, will contribute to the thriving and sustainable natural landscape for future generations to enjoy.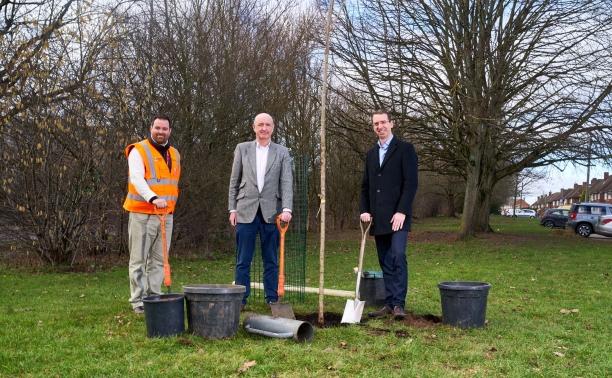 Street tree by Leggatts Rise
Elected Mayor of Watford, Peter Taylor, said: "By planting new trees along our streets and in our parks, the council is taking a significant step towards improving our environment and enhancing the quality of life for all residents.
"I am committed to increasing the number of trees in Watford. Our town already has a good tree population, with 18% tree canopy cover, two percent higher than the national average. However, if we are going to play our part in responding to the climate emergency, it's vital we do more."
Councillor Kennedy Rodrigues, Portfolio Holder for Parks, said: "Our goal is to create a more sustainable and beautiful Watford for current and future generations. These new trees will not only enhance the aesthetics of our streets and parks, but also provide valuable benefits to the environment."
The tree planting is part of the council's objectives to plant 20,000 trees by 2026, and this aim is on target following two tree giveaways last year, with 10,000 in February and 4,000 in December, and this year on 9 December, 9,000 will be given-away in Cassiobury Park. For more information on the town's Tree and Woodland strategy, visit www.watford.gov.uk/clean-streets/trees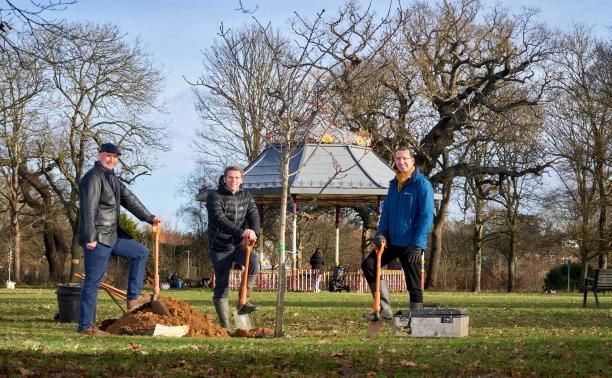 Treeplanting at Bromet School in Watford