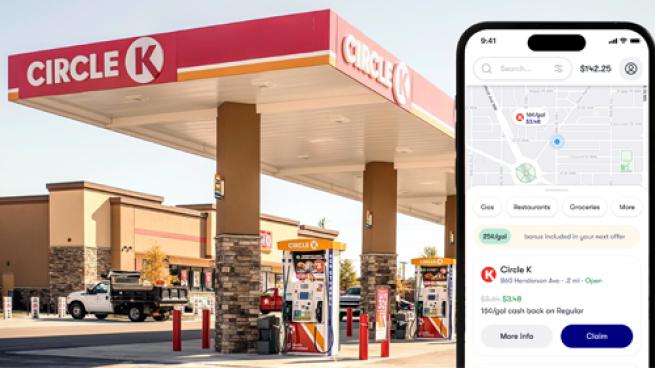 LAVAL, Quebec — Circle K renewed its partnership with Upside for fuel-related offers at more than 5,200 convenience stores.
[Read more: Circle K Ramps Up Self-Checkout Service]
The two companies will also be expanding their relationship, with Upside introducing cashback opportunities for convenience store merchandise at more than 4,000 Circle K locations across the U.S.
"Circle K is constantly looking for ways to introduce its brand to new customers," said Matthew Solly, head of global fuels and car wash category management at Circle K. "Thanks to our collaboration with Upside, we're engaging with consumers whom we might not have otherwise reached."
Circle K initially partnered with Upside in 2019 to provide personalized offers to its customers and help increase sales profits at its stores. Upside's convenience store feature also specifically focuses on driving increased pump-to-store conversion, trip frequency and basket size.
"The retailers leading the market today know that a variety of digital tools are required to grow consumer wallet share," stated Sam Berkovitz, vice president of account management for fuel and convenience stores at Upside. "[Circle K] recognizes that influencing consumer behavior needs to involve digital engagement alongside strong on-site execution, prompting them to adopt innovative strategies to outshine their competition."
Founded in 2016, Upside is a digital marketplace that connects consumers with brick-and-mortar retailers nationwide. Its mobile app and partner apps reach more than 30 million consumers and have helped its retailer partners generate more than $1 billion in incremental profit. The company currently works with more than 100,000 gas stations, c-stores, grocery stores and restaurants in all 50 states and Washington, D.C.
[Read more: Circle K Teams Up With DC for Limited-Edition Collectibles]
Laval-based Alimentation Couche-Tard is a global leader in convenience and mobility, operating in 24 countries and territories, with more than 14,300 stores, of which approximately 10,900 offer road transportation fuel. With its well-known Couche-Tard and Circle K banners, it is one of the largest independent convenience store operators in the United States and it is a leader in the convenience store industry and road transportation fuel retail in Canada, Scandinavia, the Baltics, as well as in Ireland. It also has an important presence in Poland and Hong Kong Special Administrative Region of People's Republic of China.