EAST GREENSBORO, N.C. (Oct. 6, 2023) – North Carolina Agricultural and Technical State University is planning for a sweet return on its investments in food science, nutrition and outreach when it breaks ground on a new building, the Urban and Community Food Complex, on Nov. 9.
Located on university's 492-acre farm, the complex is designed to be a research and business incubation facility, said Mohamed Ahmedna, dean of the College of Agriculture and Environmental Sciences (CAES).
Included in the nearly 15,000-square-foot building will be a sensory lab for conducting consumer research; a post-harvest physiology lab for examining harvested products; a food processing lab, a commercial kitchen, and a food safety lab.
But its standout feature will be a creamery, allowing the farm to produce Aggie Ice Cream for the first time since the 1960s, when the University Farm produced much of the food served on campus.
"In this building, food entrepreneurs will be able to research and test their business ideas with assistance from the college faculty," Ahmedna said. "The complex will expand the college's capabilities in all three mission areas: research, teaching and outreach. And of course, there's the benefit of having ice cream."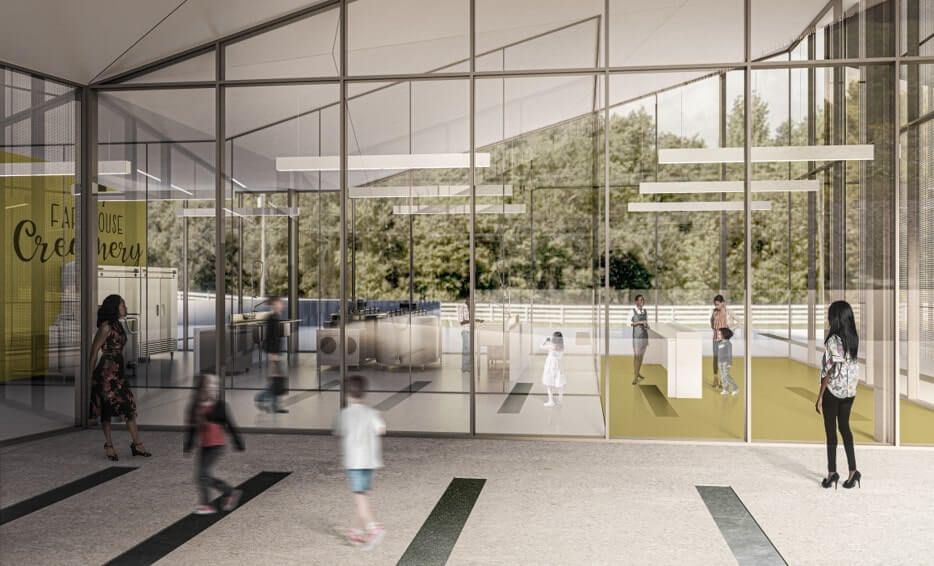 Aggie Ice Cream will not only be good to eat, it will also use the milk from the farm's primarily Jersey herd. The "A2A2" Jersey cows produce milk that may be easier for more people to tolerate and can help introduce children and community members to dairy products, Ahmedna said.
"We are the only historically Black college and university in the country that has a dairy," Ahmedna said. "Dairy products like ice cream are consumer favorites that also allow our faculty and students to cover dairy production along its entire continuum, from animal health, nutrition, reproduction and milk production, to consumption – value-added products, quality, safety, consumer research. That allows us to integrate our food and nutritional science program with our animal science program."
The facility will also house a computerized consumer research unit as well as an office and meeting space for faculty and entrepreneurs.
The business incubator will assist farmers, rural businesses and urban entrepreneurs in developing "value-added," locally grown products. Prospective entrepreneurs can come to the facility for training in business and entrepreneurship, management, marketing, product development and quality control.
"By facilitating food processing, preservation, innovation, sustainability and training, the Urban and Community Food Complex will become a hub for local farmers, small growers, and residents of local communities to use to turn their ideas into reality," said Hao Feng, Ph.D., director of the complex. "The final goal is to improve the well-being of all involved."
The University Farm, like the entire A&T campus, is located in a food desert, Ahmedna noted. While it donates much of its produce to food banks and other organizations – more than 15,580 pounds last year – access to fresh food remains an issue for many in the area.
The new facility is expected to assist East Greensboro's economic revival by spurring food and agribusiness entrepreneurship, and will also provide the College of Agriculture with space to train small-scale producers on value-added product development, food safety testing and business practices, Ahmedna said.
"There needs to be a driver for promoting access to nutritious, fresh food the East Greensboro area," he said. "As the largest college of agriculture among all HBCUs, we have a responsibility to be that driver."
The complex is the university's latest investment in the farm, which recently unveiled its Automated Milking System, the only one of its kind in the state. The new facility will also complement the college's emphasis on sustainability. In June, the college received an $18.1 million grant to lead a major part of the U.S. Department of Agriculture's NEXTGEN program, designed to build – and sustain – students' awareness of, and interest in, agriculture.
CAES set a research record this year, with a nearly $40 million portfolio, part of a steady four-year increase.
"This facility will add a new dimension to the entire university and enable us to better serve our stakeholders," Feng said. "I am thrilled that we will see this first-of-its kind facility established at A&T."